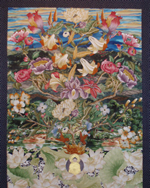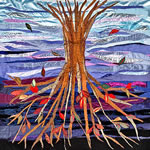 American Museum of Papermaking
Award: Worcester Art Museum Grant 2005
Francis F Kinnicutt Award for Artists Travel Study:
Traditional Papermaking Techniques in Central Mexico
Hand Papermaking Magazine, Winter, 2006 Material into Content: Pulp Painting Today. featured in article about Pulp Painting and Pulp Painting Portfolio
International Association of Hand Papermakers and Paper Artists (IAPMA), Autumn, 2006. Traditional Papermaking Techniques in Mexico, Travel and Study Grant Article
Hand Papermaking Magazine Portfolio The Art of Pulp Painting: Original Artwork of 18 International Pulp Painters
Handbound Boxed, Limited Edition
Order from: handpapermaking.org

Mar. 20 thru Apr. 22 2018
BEVERLY SKY: FABRIC COLLAGE / COLLAGE EN TELA
Galeria Nuvo
ESCUELA MODELO
MINERAL DE POZOS
ARTIST RECEPTION:
SUN. MAR.25, 1-5 PM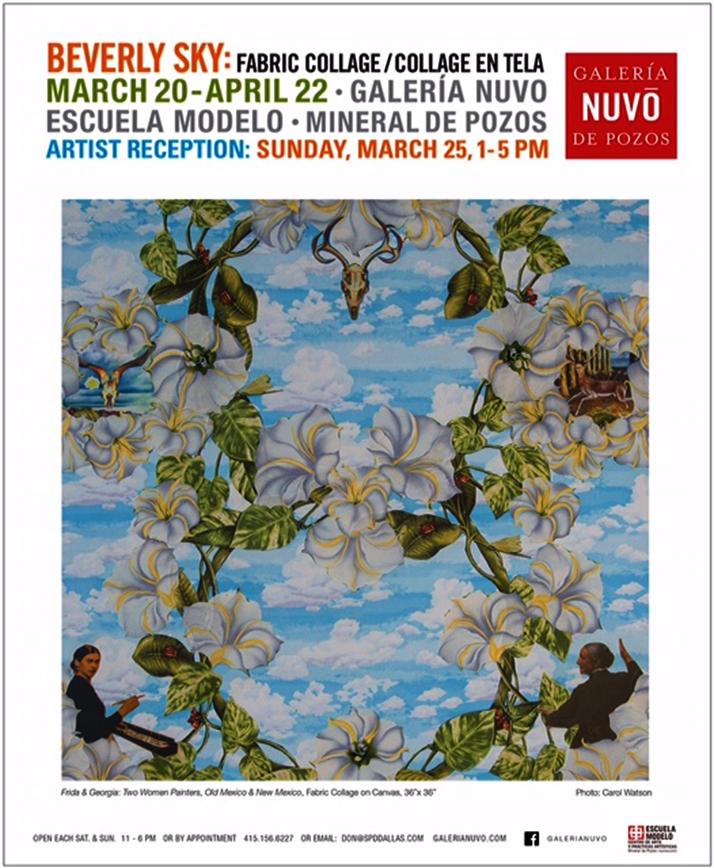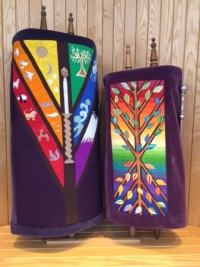 Dec. 15, 2017
Temple Shalom and The Open Your Eyes Committee commissioned me to design and produce a new Torah Mantle for the Yellin/Brant Torah pictured above. Needlepoint Design was stitched by Deborah G. Davidson
Stitching of Mantle cover by Julie Vician
Artist Statement <<<Click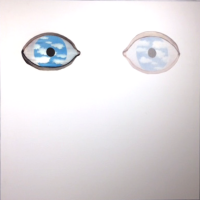 Aug. 24, 2017
What You Are Looking For Is What Is Looking: Homage to St. Augustine and Magritte, Fabric collage on canvas, 36" x 36", Cotton canvas, silk, silk organza
Mills Gallery "Real/Ideal:
Turning Utopia into Reality"
Article by: Cate McQuaid
Boston Globe
July 27, 2017
Bay State Banner
Mills Gallery "Real/Ideal:
Turning Utopia into Reality"
Article by: Celina Colby
July 20 thru Sept, 20, 2017
Boston Center for the Arts
Mills Gallery "Real/Ideal:
Turning Utopia into Reality"
Fabric Collage Display by: BeverlySky
Jan. 11, 2017
Lilith Literary Magazine
Winter 2016/2017
Remnants: Piecing Together The Stories; A Holocaust Memoir
Oct. 23 - Dec. 4, 2014
Fort Point Arts Community Gallery
Featured Artists:
Beverly Sky / Mario Kon
"Two Artistic Approaches"
Beverly Sky Interview: Arts Matter October 2014 -Video
April 2013
Fort Point Art Basin Public Art Installation: Night Blooming Day Lilies, Juried Installation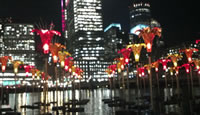 March - May, 2013
La Galeria, Villa Victoria Center for the Arts, Mujeres: Alchemical Connection, Juried Show
February, 2013
Mills Gallery, Boston Center For The Arts, Process Goes Public.
Created in the Mills Gallery as part of show featuring artistic process, a nine canvas fabric collage series
titled: We Shall Not Cease from Exploration: Windows On The Universe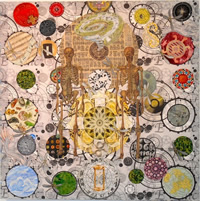 November 2012 - April 2013
Commission for Public Art Installation titled "Night Blooming Day Lilies" in the
Fort Point Art Basin, Juried Competition.
September - December 2011
Thompson Gallery, Strange Glue: Collage@100, Juried Show, Weston, MA
May - June, 2011
Galeria Cazares: Festival of Contemporary Art, San Miguel de Allende, Mexico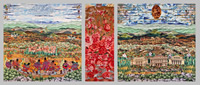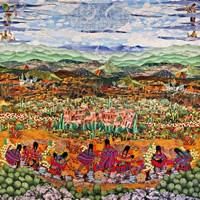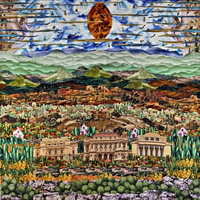 April - May, 2011
OKU Gallery: Small Works, United South End Artists Show, Boston, MA
May - June, 2011
Feasts, Artists Book Show, Brickbottom Artist Gallery, Somerville, MA
January - February, 2011
Surface Design Association, New England Juried show, Artworks Gallery, New Bedford, MA
"Art is a way of accessing a symbolic vocabulary from the deep parts of ourselves that go beyond words and to touch others in that same place."
_ Chuck Close

Remnants:
Piecing Together The Stories
By Beverly Sky

This is a memoir about my mother and her family's experiences
before and after the Holocaust of WWII.
I have been working on this project for the last sixteen years
with the support of The Joiner Institute for the Study of War and
Social Consequences at UMass Boston and my writing teacher and
generous mentor Lady Borton (www.feministpress.org/books/lady-borton).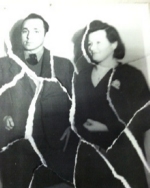 If you would like a copy of this memoir? Please email for Permissions. >>email
The Odysseus Project:
Veterans and Artists Respond to the Social
Consequences of War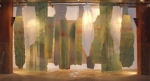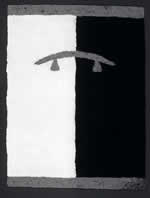 Sacred Spaces for Spiritual Communities
Newbridge On The Charles
Interfaith Chapel
Main Synagogue
Hebrew Senior Life
Rashi School
Certified Teacher of the Alexander Technique
I teach Alexander Technique...

Certified Reiki Practitioner...

Cofounder of the 'Over The Hill Dance Company'