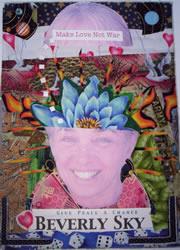 Beverly Sky | Fabric Artist

Fabric Collage, Handmade Paper, Sacred Spaces for Spiritual Communities

Boston Center for the Arts
551 Tremont Street
Studio #316
Boston, MA 02118



Website: www.beverlysky.com
Email: beverlysky@aol.com

Boston Center for the Arts
Website: www.bcaonline.org
Boston Center for the Arts is a nonprofit visual and performing arts complex providing space for artist studios, four resident theater companies, performance and rehearsal spaces, restaurants, the Mills Gallery, the Boston Ballet, Community Music Center and a variety of arts organizations.
The Brickbottom Artists Buildings
One of the original founders of the Brickbottom Artists Building. Celebrating it's 27th year as an independentl artist owned and operated group of buildings in Somerville, which is two miles from the center of Boston, Massachusetts. A group of one hundred artists found the vacant buildings in 1989, purchased, renovated them and created 150 live/work condominiums. At the time we were the largest artist owned buildings in the United States, with an onsite award winning Gallery.