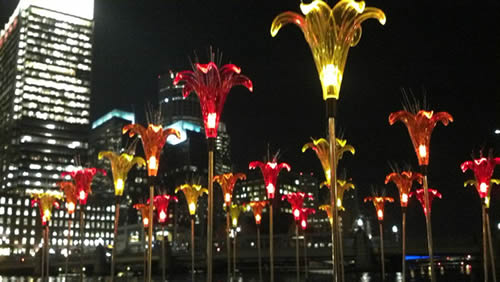 Night Blooming Day Lilies
Garden Ornament LED Lit
8' x 8', 2012-2013
Walking Boston's Summer Street bridge this winter, be sure to glance over the railing into the cold waters of the Atlantic Ocean and see the latest Art Installation in what is now known as the Fort Point Art Basin. Defined as the area between the Congress and Summer Street bridges, the Watersheet Activation Plan is host to a variety of year-round programming, public educational events, Art installations including large and small works, planned and spontaneous performances, permanent and temporary works such as Night Blooming Day Lilies.

Description: Fifty-four LED lit plastic Day Lilies imbedded into an 8' x 8' AstroTurf covered floating dock. These flowers are exterior grade, garden ornaments with mini solar panels embedded in the 'leaves'. When charged by the sun, the Lilies light up at dusk.

This installation was funded by the Fort Point Channel Operations Board's Pilot Grant Program, which seeks to enliven the Channel with a variety of capital improvements. .

Night Blooming Day Lilies marks the third floating public art installation this year and is supported by the Friends of Fort Point Channel, a nonprofit organization responsible for overseeing and executing artistic contributions to this site, and the Fort Point Arts Community with over three hundred member artists.
*Click on image to enlarge.
No Reproductions without written permission from the Artist.